After recently discovering Haze via our very own Pip Blom we decided to catch up with the band and see what they had on the horizon…
Where are Haze based? How does that impact the music you make?

We are somewhat dispersed at the moment between Bristol, London and our childhood home-village of Longwick, deep in Middle-English rural Buckinghamshire. This has hindered our productivity somewhat however we are moving in together in Bristol in a few months. 
For me (Will, vocals), living in Bristol for three years has sort of opened my eyes musically. Bristol's music 'scene' is so diverse, and people seem to make whatever they want without any sort of limitations to experimentation. Whilst we're definitely not pushing the boundaries as much as many do here – note Giant Swan or EP/64 – seeing bands like this, which would never exist where we grew up, has opened up more possibilities. More generally everyone in Bristol is so accommodating and there's just so much on all the time, so the city sort of keeps you constantly exposed to new exciting things.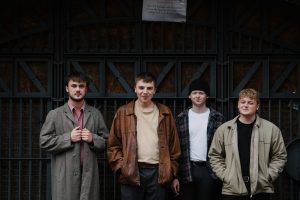 Why do Haze exist?

Me and Dan (drums) watched the School of Rock when we were 10 and obviously formed a classic rock band straight away. The others joined us in secondary school and we not-so-imaginatively became 'Haze' after trying weed… we haven't bothered to change the name since.

If you could have written one song, which would it be?

I wish I wrote Talking Head's Born Under Punches (the opener of Remain in Light). It's so danceable and catchy, which I wish we were. Also it's demanding lyrics of 'take a look at these hands' mimic Ollie constantly showing us the effects of steel fabrication has had on his palms.

In your own words, how would you describe your music?

A sort of hybrid of wonky guitar, hip-shaking bass action, discordant rhythms and silly lyrics.

If you could punch one living human being in the face, who would it be?

Not sure about a punch, but I am really enjoying the milkshake activism at the moment, and the far-right accusations of hate crime in response. Fucking 'snowflakes'.
What was the best show you've ever played?

I remember a few years ago we supported Ratboy at the O2 Academy in Oxford which was so weird. There were a thousand 14-year olds going absolutely mental for us, despite the fact they had no idea who we were. We didn't really know how to digest that one, but on paper that was a crazy crowd I guess. I think Green Man last year was maybe our best. We struggled to keep it together after a long day of drinking, which made its success all the more surprising.
What does the rest of the year hold for Haze?

We're doing Truck Festival which is always really fun. Later in the year we're also doing our first show overseas in Rotterdam at Left of the Dial which I am buzzing for. In July we're heading into the studio to record some new songs for release ASAP, including our new hit single Chuggin'. We can't wait.