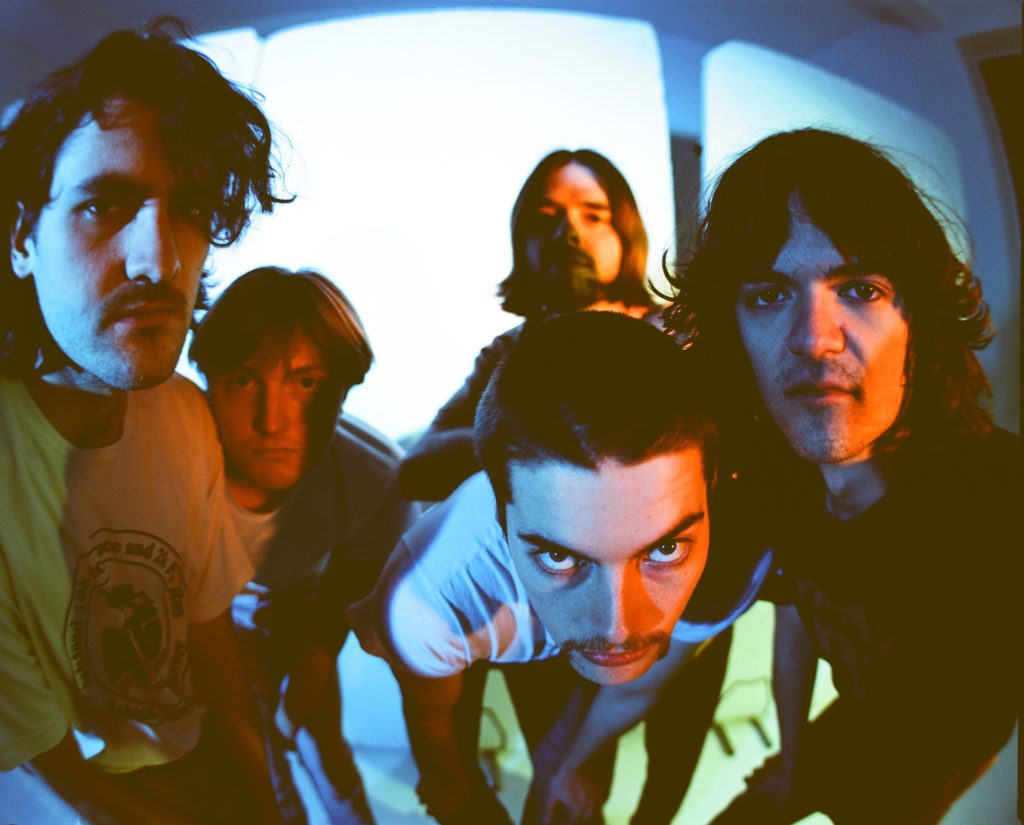 Full of indie rock swagger, "Busy waiting is trying to capture that frustration of waiting for somebody to get a move on" explains frontman George. "As a professional faffer myself, it was quite easy to slip into both of those roles for the writing and I'm chuffed with the amount of tension we've squeezed into a relatively short track". Check out the single here.
Having moved into their North London flat together back in September 2019, FEET are now living "like a hive mind" and have level-upped their kinship – both as people and artists – several times over. Spending endless days making music, the band's journey since their debut has been a rollercoaster – one with a definite U-turn. An initial batch of songs ended up being entirely scrapped after a sobering practice room realisation that, far from sounding like a cohesive second record, "one song sounded like a covers pub band, and another sounded like Eminem could throw some bars over it," notes Callum.
And so, they sat down to write a manifesto: one that would tame their overflowing pot of ideas and put some necessary parameters around what they were doing. "No wanky guitar solos, no sailor outfits, no bringing a broom onstage," jokes George. All fair points.
But as well as that, the band started digging into what they actually wanted to sound like, setting up their home studio and taking a bigger interest in production and the atmosphere of the tracks, trying to hit the cross-section of pop music and something a little darker that they've always loitered around.
"We're not a post punk band, we don't sound like a 'London band' whatever that is, but the indie reference in our shared hive mind is related to a major label, squeaky clean sound which isn't what we want from our band," explains George. "You either go the mainstream route or the sleazy South London route and we're slap bang in the middle, so we're trying to state our spot. We're pretty comfortable where we are and this is the direction we wanna take it in".
The forthcoming 'Walking Machine EP' takes these ideas and moulds them into four tracks that show a band still more than willing to throw in a liberal smattering of humour at the right moment, but who aren't relying just on japes to get them through. They've still got a classically FEET name for their new direction, Crease Pop, but even that's got some logic to it. "It's taking the pop music formula – hooky choruses, nothing too self-indulgent – but it's still got a bit of edge," says George. "With Indie music, there's an element where it can get quite soft and it's quite easy to go through that phase where you think you sound like The Beach Boys, but we've come off the end of that where we want to be a bit grittier."
Having beamed fans into their living room over lockdown with a series of livestreams imbued with more genuine live show energy than most, the tight-knit camaraderie the band have honed over the past year is there for all to see. Far from the group of novices they first emerged as, FEET are now a proper unit.
Alongside the new EP, FEET will continue their new chapter on the road this August. The seven UK dates will see them perform the brand-new material for the first time, alongside a host of fan favourites from their debut album. Limited tickets are still available and full details are below.
UK TOUR AUGUST 2021
12 Sheffield Record Junkee
13 Manchester The Deaf Institute [Sold Out]
14 Nottingham The Bodega
19 Birmingham Mama Roux's
20 Bristol Thekla
21 London Oslo [Sold Out]
22 Brighton Hope & Ruin [Sold Out]