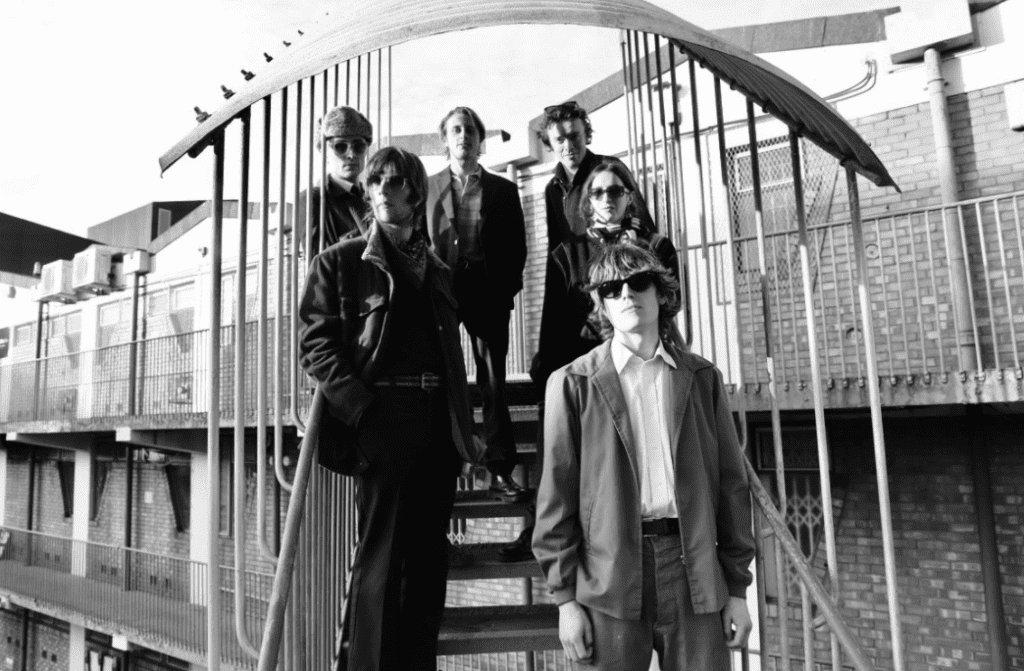 "One of London's most exciting bands"-  So Young Magazine
"Moreish, foreboding post-punk" – Upset Magazine
 "One of the most exciting new acts out there" – DIY Magazine
 Tracks Of The Week – The Guardian 
"A tense and urgent piece of post-punk" – Gigwise
Toward the end of last year, Nice Swan Records announced the signing of DEADLETTER to Nice Swan Records along with instant classic, 'Pop Culture Connoisseur'. Today marks the return of the band with new track 'Hero', the B-side to the aforementioned single.
'Hero' is DEADLETTER's most narrative track to date, and recounts the completely fictionalised tale of a man desperate for some recognition and accomplishment in life, and decides the best way to go about this is by causing a disaster to save his sense of self-worth. The story takes inspiration from cases of firefighters in the United States starting fires only to answer the calls themselves in a flurry of self-fabricated valour. The b-side to previous single 'Pop Culture Connoisseur', we find the band on furiously concise form.
Lead singer Zac Lawrence elaborates on the track;
"The fictional story of Hero raises the question of how far a human would go to prove their worth in a world crammed with difficult expectations and ever mounting pressure. It's an extreme example, but we hope there's a level of relatability."
Produced and mixed by Ben Lewis and Josh Ludlow (Make a Dance), this latest release marks an exciting new chapter for the band ahead of some exciting plans and announcements in 2022. Having previously supported the likes of Squid, Viagra Boys and Pip Blom, DEADLETTER have returned to the live circuit with a raft of thrilling and packed headlines throughout the capital post lockdown.
DEADLETTER's 2020 debut single "Good Old Days" was a clear stylistic marker of the band's vision and received both regional BBC and 6Music play, as well as being added to 6Music's 'Introducing' playlist alongside the normal A, B and C list. Follow-up single 'Fit For Work' received both regional BBC and 6Music play from Steve Lamacq and Tom Robinson. The track was also made Huw Stephens' "Tip of the Week" on BBC Radio 1, and a live session of the track was also played on his Introducing show on Radio 1.
 Third single "Fall of the Big Screen" received national airplay from Steve Lamacq (who chose the band as his 'Spotlight Artist') and Tom Robinson on BBC 6Music, and Gemma Bradley on Radio 1. Recent single "Pop Culture Connoisseur" was made Gemma Bradley's 'Tip of the Week' on Radio 1, and received airplay across 6Music. 
To date, DEADLETTER are widely praised at press by the likes of The Guardian, DIY Magazine, Loud and Quiet, Dork Magazine, So Young Magazine, Upset Magazine, Gigwise and more.
Live Dates:
February 25th – Edinburgh – Voodoo Rooms
February 26th  – Manchester – YES 
March 1st – London – The Lexington (Sold out)
March 26th – Middlesbrough – NXTGN Festival
March 27th- Milton Keynes – Craufurd Arms
April 10th – Bristol – Outer Town Festival
 April 30th @ Gold Sounds, Leeds
May 1st @ Get Together, Sheffield
May 25th – Stockton on Tees – Georgian Theatre – Songs from Northern Britain
June 11th – Wakefield – Long Division Festival
July 8th/9th – Bolton – Right To Roam Festival