"On course towards future raucous, beer-soaked headline festival sets." NME
"Screw-you power, relentless motorik rhythms and impressively large choruses." The Guardian
"Unrelenting, gritty energy" Daily Star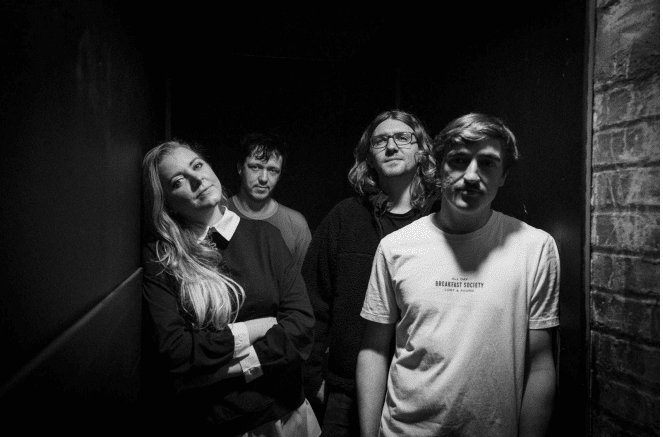 'Swimming' is the third and final track to be released before the debut EP is available in full. It follows 'Drones' and the title-track ('Manifesto'), which were released in 2020, shortly after they completed recording the Sprints EP. Produced by Daniel Fox of Girl Band – Dublin's answer to Steve Albini – the four tracks make for a hard-hitting gloom-punk journey you can't miss. Like the Irish guitar acts who have paved the way for them, Fontaines D.C., Silverbacks and Girl Band, Sprints sound urgent and vital at every turn.
The single 'Swimming' is a confluence of rabble-rousing stadium rock, sleazy garage rock and Sonic Youth experimentation. Lyrically, there's a lot to hang on to, too, which is unsurprising given how topical the band is so far: 'Drones' took on imposter syndrome; 'Manifesto' tackled homophobia.
'Swimming' scorns on the increasing lack of opportunity after following prescribed paths to become society's idea of a "success." Sprints singer Karla Chubb explains: "While the homeless crisis worsens, the city is sinking in debt and everyone can barely keep their heads above water, you see an article stating that a new €25 million white water rafting centre is being developed after approval by Dublin City Council. Sometimes you'd just rather drown.""
Sprints have hit a nerve. The velocity of this argument comes from personal anguish, yet will chime with a generation. And with such honesty running through their core, it's no wonder The Guardian, NME, and BBC Radio 1 and 6Music have tipped them for big things.
Live Dates:
Oct 7th – Roisin Dubh, Galway
Oct 8th – Kasbah, Limerick
Oct 9th – The Grand Social, Dublin
Oct 21st – The Waiting Room, London
Oct 22nd – Rough Trade, Bristol
Oct 23rd – Heartbreakers, Southampton
Oct 26th – Sneaky Pete's, Edinburgh
Oct 27th – The Attic, Glasgow
Oct 28th – The Castle, Manchester
Oct 30th – The Sunflower Lounge, Birmingham
Oct 31st – Bootleg Social, Blackpool
Nov 2nd – Surf Cafe, Newcastle
Nov 3rd – Sidney & Matilda, Sheffield
Nov 6th – Mutations Festival, Brighton
Nov 7th – Festival of Voice, Cardiff
Nov 9th – The Shipping Forecast, Liverpool