SPRINTS 
ANNOUNCE A MODERN JOB EP & SHARE TITLE TRACK MODERN JOB
A MODERN JOB EP OUT 11th MARCH 2022 ON NICE SWAN RECORDS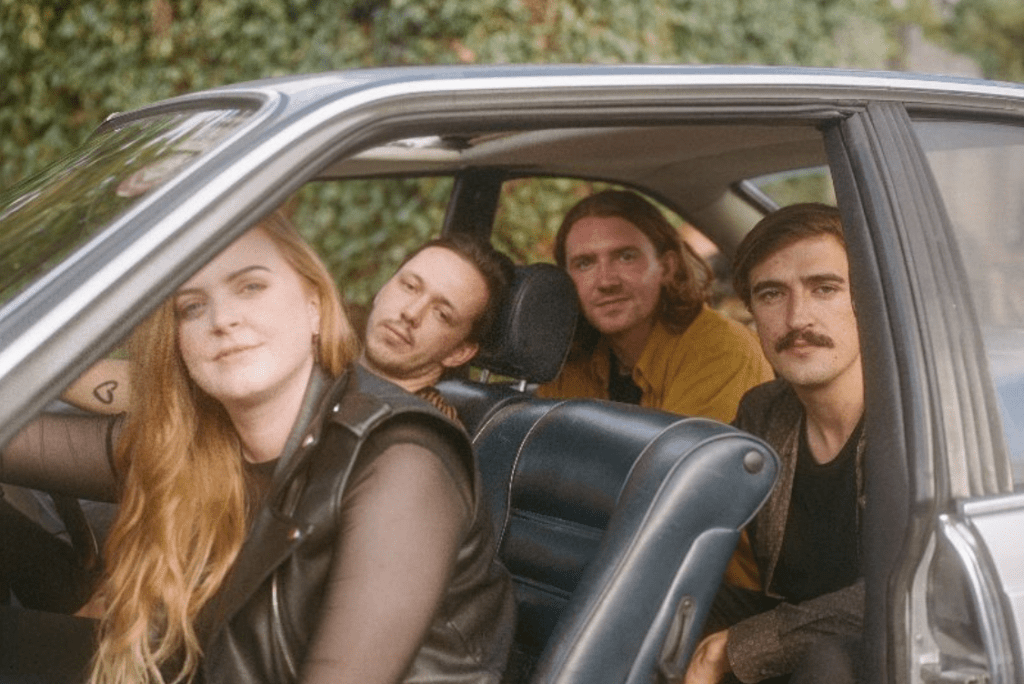 ""On course towards future raucous, beer-soaked headline festival sets." NME
"Screw-you power, relentless motorik rhythms and impressively large choruses." The Guardian
"Sprints may be the latest to emerge from Dublin's fertile stable of guitar-wielding new heroes, but their two-fingers-up, no-nonsense rattle'n'roll arrives as the natural heir to Amyl and the Sniffers' grot punk" – DIY 
Today Sprints unveil details of their upcoming EP A Modern Job, which is out 11th March 2022 on Nice Swan Records. The band also today share new single Modern Job – the latest taste from the impossibly buzzy Dublin-based quartet. Lyrically, Modern Job finds singer Karla Chubb at her sardonic and angry best, detailing her own personal wish-list "I wish I had the guts/I wish I had the gall/ I wish I had a girl" – all set to cascading guitars and a formidable rhythm section; working in unison to create unrelenting tension, all the while echoing the subject matter Chubb explores in her lyrics. 
On the new single, singer Karla Chubb offers the following:
"Modern Job is a critique of modern existence but also an exploration of growing up queer. In your formative years, you are bombarded with media, books, news that depict what a "normal" life should be. Grow up, fall in love, get married… long live the nuclear family.
By contrast when you grow up queer all these ordinary things can seem extraordinary, out of reach and in some parts of the world, illegal. It leaves you feeling lost, excluded and confused. I wanted Modern Job to capture those feelings; chaotic energy, loneliness and longing of normality while trying to find acceptance within yourself."
Sprints have received support from the likes The Guardian, Clash, NME, DIY, Dork as well as love at Radio 1 and Radio 6Music. Recent single How Does The Story Go? (also on the EP) was premiered by Steve Lamacq who praised it as "their best song yet! These guys are going to be something," The single was included in Spotify UK's New Music Friday as well as leading in playlists from NME, Loud & Quiet and others.
Sprints combine guitar-driven hooks, motoric rhythm and emotive lyricism to create a unique sound that pulls from garage, grunge, punk and beyond. Like the Irish guitar acts who have paved the way for them: Fontaines D.C., Silverbacks and Girl Band, the sound of Sprints is urgent and vital at every turn.
Sprints have hit a nerve. Driven by experience, tough political climates and social and economic uncertainty – their music is honest, often politically charged and authentic. The band begin their U.K. tour next week (details below) 
EP pre-order: https://sprintsmusic.bandcamp.com/album/a-modern-job
Tour Dates
Oct 21st – The Waiting Room, London (sold out)
Oct 22nd – Rough Trade, Bristol
Oct 23rd – Heartbreakers, Southampton
Oct 26th – Sneaky Pete's, Edinburgh
Oct 27th – The Attic, Glasgow
Oct 28th – The Castle, Manchester (sold out)
Oct 30th – The Sunflower Lounge, Birmingham
Oct 31st – Bootleg Social, Blackpool
Nov 2nd – Head of Steam, Newcastle
Nov 3rd – Sidney & Matilda, Sheffield
Nov 6th – Mutations Festival, Brighton
Nov 7th – Festival of Voice, Cardiff
Nov 9th – The Shipping Forecast, Liverpool
Nov 10th – Oporto, Leeds
Feb 24th – Yes, Manchester
March 2nd – Moth Club, London