PHIL MADELEY ANNOUNCES DEBUT EP '21ST CENTURY WITCH HUNT'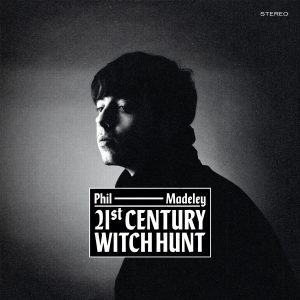 OUT 4TH SEPTEMBER VIA NICE SWAN RECORDS
WATCH THE VIDEO FOR THE THE TITLE TRACK HERE
Phil Madeley has announced his highly anticipated debut EP huge new single 21st Century Witch Hunt, set for release 4th September via Nice Swan Records.
21st Century Witch Hunt is a remarkable collection of work that seamlessly encapsulates Madeley's musical journey so far, with the Birmingham troubadour effortlessly amalgamating a wealth of genres, from dark forboding production to an almost spaghetti western take on alternative classics, all underpinned by his signature vocals and lyrical craft.
Speaking about the debut EP, Phil Madeley said: "'The EP questions the current state of play. It's about alienation, division, redemption, and largely myself. It's questioning the soul of our actions. I'm a bit obsessed with finding meaning in everything. At times this is a flaw, but it has its moment in the sun when it comes to songwriting. We recorded it within a day earlier this year at RAK Studios, which suits the sound of it. It ended up being an outpour of my experiences over the past year and feels like a great base to introduce myself as a songwriter'.
The EP features the huge title track '21st Century Witch Hunt', which was released in spring to critical acclaim and was accompanied by stunning, cult-like visuals, as well as debut single 'Same Skies' and forthcoming hit 'Lay Across'.