NSWNi001: Jelly Cleaver – Feeling Fine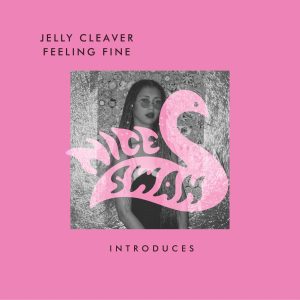 Nice Swan Records are excited to announce they are joining forces with the team from RIP Records in launching the new monthly Nice Swan Introduces… series. The two labels have discovered and released debut tracks from some of the finest talent over the past few years including Sports Team, Pip Blom, FUR, Phobophobes, Peluché, Dark Bells (Haai) & Black Manila (Mellah), Hotel Lux and many more. The series will introduce a new and exciting talent on a monthly basis – spanning genres – and present a stepping stone for acts yet to have any team around them. The first in the new series comes from South London's Jelly Cleaver, the latest musical sensation to emerge from the exciting Jazz scene of the capital. Her new track 'Feeling Fine' features rapper Shunaji, a graduate of Gilles Peterson's Future Bubblers, and Maddy Coombs, a rising saxophonist on the London Jazz Scene. It's due for release April 28th via Nice Swan Introduces Series:
The self-taught multi-instrumentalist has been playing guitar ever since she was old enough to pick one up and with a wide range of musical influences including classical, soul, "world", folk and experimental. Jelly's sound has naturally headed into the musical freedom of jazz with hip-hop elements born from previous projects that included a punk band and an African drumming choir.
This is the second single from Jelly's innovative new project Reimagined, following on from They Don't Know released in November 2019. For this mixtape she has produced tracks based off sampling her last critically acclaimed album The Dream Jazz Manifesto (played on BBC 1xtra, Rinse FM, Worldwide FM and others). Feeling Fine samples her tune Angela, reimagining it as a chilled-out, old-school hip-hop track. Jelly, who recently won the Steve Reid InNOVAtion Award, has previously been called "the next artist to make an impact on the London Jazz Scene" by Supreme Standards and been compared to Moses Boyd, Esperanza Spalding and Hiatus Kayote, but this mixtape sees a radical departure from her jazz/DIY roots and her first strong statement as a producer and beatmaker. The project has been funded by Help Musicians Do It Differently Fund, and the full mixtape is due for release in May 2020.
'Feeling Fine' is a woozy track about the good times, dreaming about summer days and being your best self. Her two collaborators definitely share in this vibe. Having met as part of the house band for a jam session at Brainchild Festival several years back, Jelly and Vanessa Saul (artist name Shunaji) became good mates and frequent collaborators, with Jelly supporting Shunaji for her Blue Melon EP release and featuring on a track from her upcoming EP. Jelly knew Maddy Coombs though Tomorrow's Warriors, the jazz education organisation credited by many for creating the current London jazz scene, with alumni including Ezra Collective, Moses Boyd, Shabaka Hutchings, Nerija and Nubya Garcia.