Jaws The Shark shares debut EP 'Another Day In Paradise'
Out today (Feb 11th) via Nice Swan Records
EP release show 12th Feb at Sebright Arms, London (free entry)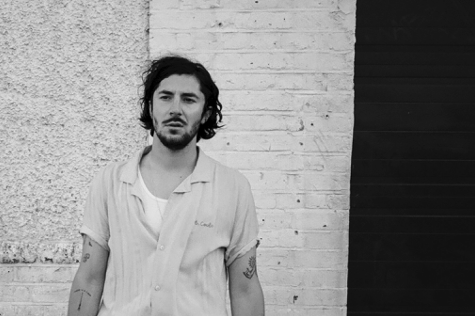 Photo Credit: Rob Crawford
"A hooky piece of garage rock…a hell of a lot of potential" – Gigwise
Jaws The Shark releases debut EP 'Another Day In Paradise', out today (February 11th) via cult indie label Nice Swan Records (English Teacher, Sports Team, Pip Blom).
Encompassing addictive lead single 'Erase Myself', raucous follow-up 'Cold Feet' and rip-roaring latest effort 'Still Young', the indie newcomer's debut EP amplifies his vivid potential to no end and follows early slots supporting the likes of The Wytches and Courting in recent times.
Detailing his EP, JTS stated: "The title of the EP and the title song 'Another Day In Paradise' are supposed to be soaked in irony due to the fact that this entire EP was written in the middle of the first lockdown at the height of the global Covid pandemic. I had moved out of London and back down to the Devon Countryside, where I grew up. I couldn't face being stuck inside of my pokey London flat for….who knew how long back then! I only packed 3 t-shirts and a couple of pairs of trousers and I ended up being there for 6 months!
As the days and months grew on and the world seemed to be getting more and more fucked by each
passing hour, with nothing but depressing doom and gloom on the news, it felt like every day was almost
Groundhog day. It was anything but paradise. I wanted to write a batch of songs that gave people back a sense of fun and energy, at a time when it felt like people needed it most."
Having already solidified his reputation within the past year, gaining praise from key publications including Dork, The Independent and Gigwise, alongside spins on the BBC Radio 1 (Jack Saunders) and BBC 6 Music (Shaun Keaveny, Huw Stephens) airwaves, Jaws the Shark is certainly swimming in a sea of potential, and with support slots for Dinosaur Pile Up imminent, his presence across the indie landscape is primed to become even bigger in the months to come.
Produced by Theo Verney (FEET, Lazarus Kane, English Teacher), Jaws The Shark's 'Another Day In Paradise' (EP) is out today (February 11th) via Nice Swan Records and available on all digital platforms.
'Another Day In Paradise' Tracklist
01 – Another Day In Paradise
02 – Cold Feet
03 – Erase Myself
04 – Still Young
Jaws The Shark Online
Facebook / Twitter / Instagram / YouTube / Spotify