FUR ANNOUNCE DEBUT ALBUM
"WHEN YOU WALK AWAY"

VIA BOY PABLO'S 777 MUSIC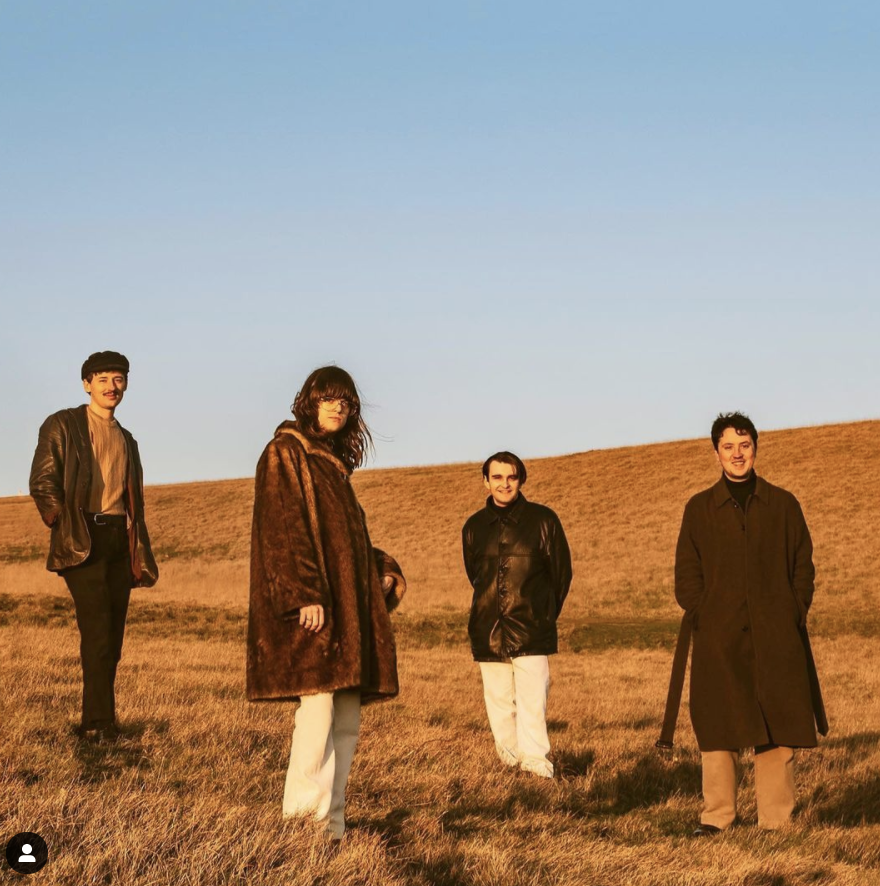 Early press support for FUR:
"Many young bands of recent years have tried to hark back to the golden dawn of pop songwriting, but few have managed to do it quite as convincingly as Brighton quartet FUR. Pure twinkle-eyed joy."
DIY
"Finely crafted retro gold."
The Independent
"Shimmering cuts from a band truly finding their rhythm nicely."
Dork
"One of the UK's most exciting breakthrough guitar bands."
Daily Star
"The band's whip-smart indie pop has a real classic feel, while adoring its own eccentricities."
CLASH
"No strangers to taking sounds from the past and giving them an up-to-date lick of paint, FUR make a brilliant return."
Gigwise
NME New Bangers
Today, Brighton rockers FUR are pleased to announce their much-anticipated debut album, "When You Walk Away", will be released on November 5, 2021 via Boy Pablo's Norwegian tastemaker label 777 Music.
"When You Walk Away" marks the band's most fully realised effort to date. FUR, who described their last EP, 2020's "Facing Home Mixtape", as a "harmonious meeting of unintentional things", created a deeply personal yet deliberate and cohesive album that is both contemporary and a homage to traditional rock n roll, a genre the group has continuously gravitated toward. For a band who have seen considerable support building at both press and radio over the last few years, the album has been a long time coming but there's no doubt, with this set of songs, that "When You Walk Away" has been well worth the wait.
Earlier this summer the band shared the first taster of the new album, "The Fine Line Of A Quiet Life", a brilliantly insistent slice of indie-pop that paired their trademark melodic gifts to an immediate, modern production. Today, they share the title-track of the album and visual accompaniment directed by Vasilisa Forbes. Vasilisa is a UK-based female director who has previously directed visuals for acts like Hannah Diamond, The Bug and Millie Turner.
The band's own Will Murray had the following to say about the album's title-track and its connections with the record as a whole:
"When You Walk Away Pt I is a hopeful yet reflective statement that opens the album. Drawn from the common axiom 'when you walk away, don't turn/look back' it acts as a personal manifesto that looks to punctuate and frame the themes present on the album. The album deals with the personal and shared experiences we have during the difficult post-coming of age period in our lives, with each song being a snapshot/postcard searching for meaning and trying to make sense of these experiences.
Post-coming of age is a dizzying period of intense change and movement, both internal and external, in which you try to find your place in the world whilst finding yourself within. You may have to walk away from home, familiarity, innocence as well as jobs, relationships and situations that are no good for you while in turn friends and love's may walk away from you. As someone with a penchant for standing outside of time and dwelling on the past, the songs act as a reminder to be more present and spend less time looking over my shoulder.
When You Walk Away Pt I's "find someone who loves you and don't let go / find someone to believe in and let them know" serves as an ode to love and friendship, and hopes to impart small wisdoms in what I have learned through experience and believe to be most important."
WATCH VIDEO TO "WHEN YOU WALK AWAY" HERE
After the pandemic derailed live plans over the last year, the band now return with a series of shows at Reading & Leeds Festival, Live At Leeds. a tour in support of 777 labelmate Boy Pablo and then a significant run of headlining dates in November.
You can catch the band live at the following dates:
August 27th – Leeds, Leeds Festival
August 29th – Reading, Reading Festival
September 13th – Leeds, Belgrave Music Hall w/ Boy Pablo
September 14th – Glasgow, The Garage w/ Boy Pablo
September 16th – Manchester, The Ritz w/ Boy Pablo
September 17th – Birmingham, 02 Academy 2 w/ Boy Pablo
September 18th – London, St Johns Church w/ Boy Pablo
September 20th – Bristol, Motion w/ Boy Pablo
October 16th – Leeds, Live At Leeds
November 16th – Sheffield, The Leadmill
November 17th – Newcastle, The Cluny
November 18th – Edinburgh, Sneaky Pete's
November 19th – Manchester, The Deaf Institute
November 20th – Birmingham, The Castle & Falcon
November 22nd – Liverpool, Phase One
November 24th – Southampton, Heartbreakers
November 26th – London, Oslo
November 27th – Margate, Elsewhere
Pre-order the album HERE and receive a limited edition FUR football jersey as well as an exclusive Rough Trade vinyl version with a photobook.
More details about FUR:
Signing to Norway's '777 Music' in the Autumn of 2020, meant that FUR were able to secure their debut album on the tail end of the year; a spout of luck and gift of time, which enabled the group to sit-back and relish the respective freedom of recording with neither time constraints, nor pressure, to be anything but "a band at our own pace again".
Learning to navigate the seemingly impossible task of banding together in a global lockdown would at first trip appear stalemate, yet three studios down and isolated rehearsals in their respective homes, resulted in something beautifully responsive in the form of the 'Facing Home Mixtape'; a self-recorded "creative bleed" which attempted to combat "the lack of shows and lack of rehearsal rubbish", by utilising energy that had been stored up, but not quite made the album cut.
One of the greatest insights in life, is the familiarity found in time. That ever-existing stamp in which art can simultaneously exist pre, present and post pandemic, resulted in an observatory hyper-awareness and desire to soak up life's endurances, which has frequented FUR's thoughts often. If the mixtape was a self-described "harmonious meeting of unintentional things" and wistful nostalgia, then it's intrinsically adept that FUR's subsequent debut album, is to be titled 'When You Walk Away'.
Recorded at Echo Zoo Studios (Michael Kiwanuka), FUR employed the skills of Theo Verney on production and engineer Kristoff Skirl, both of whom were key collaborators in FUR's earlier work. As children, J.M Barrie taught us never to say goodbye, "because goodbye means going away and going away means forgetting"- and yet in homage to the murky waters post your early twenties, 'When You Walk Away' is evidently less an epic down memory lane- chasing the second star to the right and straight on 'til eternity, and rather, a conscious move from a band who embrace collaborative development and the art of turning back, to aid the next big step forward.
It goes without saying that bubbling in a studio for thirty days would be enough to shield FUR (if but temporarily) from the abnormality of the world outside. Manifesting a sense of overstimulated awareness, like that first blink of light after a lunchtime cinema trip, resulted in an environment of "right here right now" recording, in which it became integral from the get-go, to release an album of "entirely new material" as opposed to an accumulated "mix-and-match", of previously released tracks.
Whether it's playing a Gibson SG, enlisting the skills of Mike Rowe (Mick Jagger's key's player amongst other accolades), or falling down the White Rabbit hole of The Velvet Underground via The Strokes in a flurry of influential digestion, FUR, are unquestionably a contemporary act, writing contemporary songs, for tomorrow's music explorers; an infinite balancing act between present relevancy, and the traditional rock n roll of which they themselves, look up to.
2020 saw FUR create an interactive fan WhatsApp group and a Tik-Tok account- all as a "duty to provide entertainment or escape" to their ever-growing, and fiercely loyal audience. But what's next? Their 'Spring 2020' tour, which'll see FUR play the likes of Manchester's 'The Deaf Institute' and 'Oslo' in London, was pensively rescheduled to November 2021, and a coveted support slot with Boy Pablo in September, will, if all goes to plan, further cement FUR's statuses as purveyors of beautifully crafted showmanship.
Growing up may well be an awfully big adventure. FUR, despite their 'Existential Crisis in G Major', timelessly suggest that if the mystique of self-awareness is the key to critical acclaim, then transcending silver linings and effervescent learning curves are enough to turn a debut album from something deeply personal, to an intimately unified body of work.
Acknowledging the parallels between the historical significance of today's climate, and the long-foretold pertinence of FUR's biggest career step to date, do the group believe in fate? "There's something looking over us- a natural development of patience and how we perceive things." – a trademark consciousness which makes FUR the influential sweethearts they've truly grown to become.
FUR are:
Will Murray – Vocals, Guitar
Josh Buchanan – Guitar
William Tavener – Bass
Flynn Whelan – Drums
FUR
When You Walk Away
Out November 5th via 777 Music
1. When You Walk Away Pt I
2. Anybody Else But Me
3. To Be Next To Her
4. The Fine Line of a Quiet Life
5. She's the Warmest Colour of My Mind
6. No Good For You
7. What I Am
8. Wild Heart
9. Love You All The Time
10. Holding Up the Sun
11. When You Walk Away Pt II
Follow FUR: