COURTING RELEASE NEW REMIX EP "GRAND PRIX" FT. ROBBIE & MONA, GLOWS & JUST WONDERING

"GRAND NATIONAL" EP OUT NOW VIA NICE SWAN RECORDS
Today, Liverpool four-piece Courting have released a new remix EP titled "Grand Prix". Featuring friends of the band: Robbie & Mona, GLOWS and Just Wondering, the EP sees the tracks "Crass" and "Slow Burner" given the remix treatment.
The tracks are taken from the bands recent EP "Grand National", which was released to vast critical acclaim earlier this year via Nice Swan Records (home to the likes of Sports Team & Pip Blom). Following a string of standalone single releases including "Popshop!", "Football" and "Not Yr Man", Courting found themselves earning accolades across an array of media with the band landing on the BBC 6 Music playlist, and included in end of year lists across the likes of: NME 100, Dork Hype List 2021 & DIY Hello 2021.
Following the announcement of their latest EP, Courting crashed into 2021 with the release of their horse-racing anti-anthem "Grand National", which went on to see the band break into the 6 Music playlist a second time – moving up to the A-list. The single and EP also earned plaudits across the industry with support from the likes of The Needle Drop, CRACK, Dork, DIY NME, CLASH, and London Evening Standard, as well as praise from fellow bands such as Sports Team, FEET, and many more.
Now, the new remix EP comes as the band prepare to set out on their highly anticipated UK headline tour in September, which precedes a number of festival appearances and two consecutive support slots with Sports Team at Brixton Academy in November.
Speaking about the remix EP, frontman Sean Murphy-O'Neill, says "Whenever we write music, we treat it quite inwardly and write for ourselves and our gigs. After a while, it feels great to allow other artists we love to take over that space and create whatever they want from what we've recorded. Grand Prix is the collaborative sister project to Grand National, with everything carried out by our friends in GLOWS, Robbie & Mona, and Just Wondering, whilst the artwork was created by our friend George from FEET. Now you won't get dirty looks if you decide to lash one of our songs into a DJ set."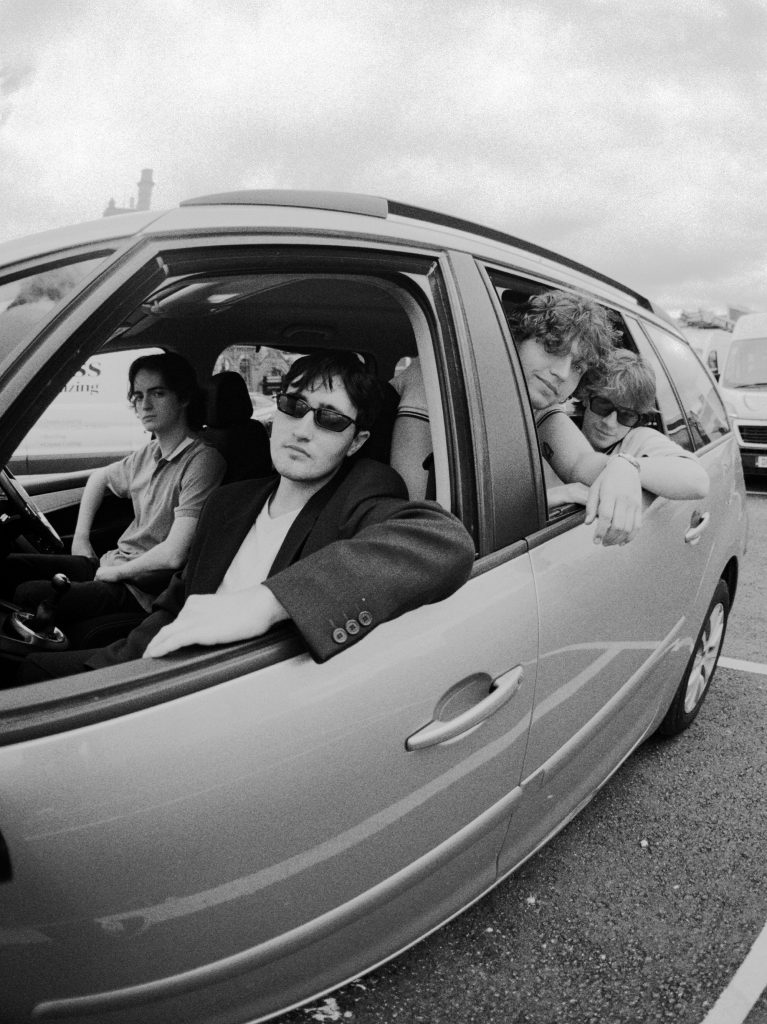 Live dates:
TUE 14 SEPTEMBER –THE POETRY CLUB – GLASGOW, UK
WED 15 SEPTEMBER — THINK TANK? UNDERGROUND – NEWCASTLE UPON TYNE, UK
THU 16 SEPTEMBER — OPORTO – LEEDS, UK
FRI 17 SEPTEMBER – O2 ACADEMY LIVERPOOL – LIVERPOOL, UK
SAT 18 SEPTEMBER – FOUNDRY – SHEFFIELD, UK
MON 20 SEPTEMBER – YES BASEMENT – MANCHESTER, UK
TUE 21 SEPTEMBER – BODEGA SOCIAL – NOTTINGHAM, UK
THU 23 SEPTEMBER – THE HARE AND HOUNDS – BIRMINGHAM, UK
FRI 24 SEPTEMBER -THE COOKIE – LEICESTER, UK
SAT 25 SEPTEMBER – PORTLAND ARMS – CAMBRIDGE, UK
SUN 26 SEPTEMBER – CRAUFURD ARMS – WOLVERTON, UK
MON 27 SEPTEMBER – LOUISIANA – BRISTOL, UK
TUE 28 SEPTEMBER – CLWB IFOR BACH – CARDIFF, UK
THU 30 SEPTEMBER – CAMDEN ASSEMBLY – LONDON, UK
FRI 1 OCTOBER – O2 ACADEMY LIVERPOOL – LIVERPOOL, UK
SAT 9 OCTOBER – ARE YOU LISTENING FESTIVAL 2021 – READING, UK
SAT 16 OCTOBER – LIVE AT LEEDS 2021 – LEEDS, UK
TUE 26 OCTOBER – SWG3 – GLASGOW, UK
SAT 30 OCTOBER – HEADROW HOUSE & BELGRAVE MUSIC HALL – LEEDS, UK
SAT 6 NOVEMBER – MUTATIONS FESTIVAL 2021 – BRIGHTON, UK
WED 17 NOVEMBER – ROCK CITY – NOTTINGHAM, UK
THU 18 NOVEMBER – STYLUS – LEEDS, UK
SUN 21 NOVEMBER – WHELANS – DUBLIN, IRELAND
TUE 23 NOVEMBER – O2 ACADEMY BRISTOL – BRISTOL, UK
THU 25 NOVEMBER – O2 ACADEMY BRIXTON – LONDON, UK
SAT 11 DECEMBER – SONIC WAVE FESTIVAL 2021 – BIRMINGHAM, UK
More info and tickets available HERE
[INSERT EP ARTWORK]
"Grand Prix artwork"
Tracklisting:
1. Crass (Robbie & Mona remix)
2. Crass (GLOWS remix)
3. Slow Burner (Just Wondering remix)
4. Crass (GLOWS remix)
Order the remix EP HERE [INSERT LINK]
Courting are:

Sean Murphy-O'Neill (Guitar/Vocals/Cowbell)
Sean Thomas (Drums/Vocals)
Michael Downes (Guitar)
Sam Brennan (Bass)
Follow:

Facebook
Twitter
Instagram
Nice Swan
Nice Swan Records roster can be found here.